Trinity Theological College
1st Phase of Entrance test to be held on 25th February 2022.
Annual Proficiency Award 2020
Annual Proficiency for Academic Excellency 2020 was awarded to following recipients.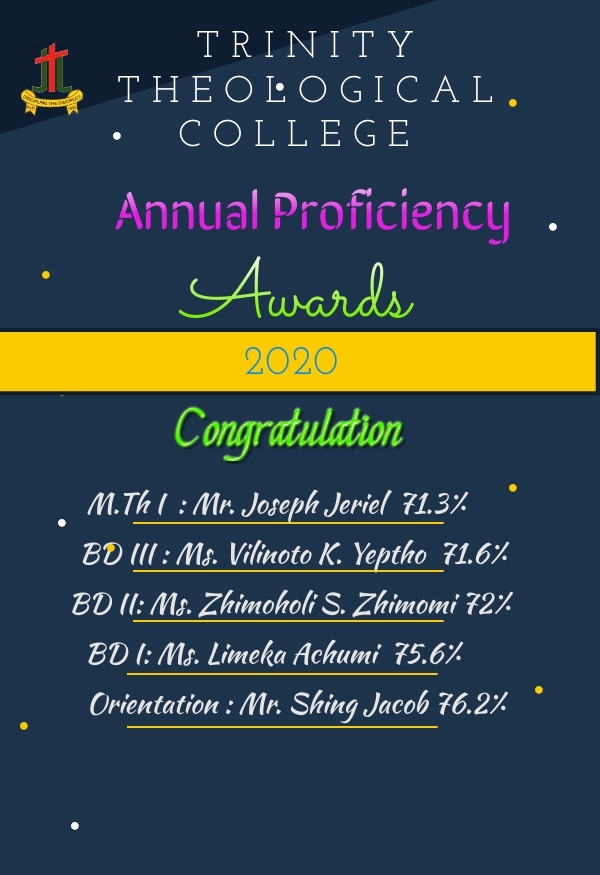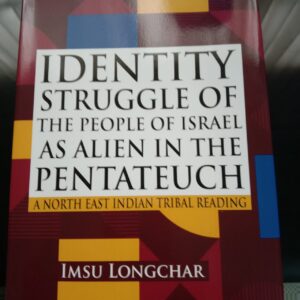 Book Title- Identity Struggle of the people of Israel as Alien in the Pentateuch - A North East Indian Tribal Reading.
Author- Dr. Imsu Longchar Associate Professor, TTC
Publisher- Christian World Imprint, New Delhi.
Description- In a brief highlight Dr. Imsu Longchar said that, the book attempts to present a systematic analysis of the passages that deals with ger "resident alien" in the ancestral narrative by using ideological approach engaged in exegetical analysis in order to expose textual aggression in a particular biblical passage. The prime focus is on the identity struggle of the people of Israel as alien in the Pentateuch. In doing so the author has brought up the opening towards others, particularly Israel's concern for the alien as a great witness for her universalistic attitude of the Pentateuch. Special attention is given to the legal provisions of the alien in the Ancient West Asia and how the stipulation related to the people of Israel. Basic features of ethnicity and ethnic boundaries in early Israel are discussed to have a general understanding of investigating identity develops over the human lifespan and throughout social change. The author investigates alien Pentateuch narrative, and offer a helpful matrix for relating ideas of identity, land and community. An attempt is made to identify alien in the Holiness code to reconstruct the situations to which the laws were responding. Using Hermeneutical tools comparing is made of the ancient Israel laws concerning aliens with the tribal communities North East Indian.
Farewell Photos (03/08/2020)
Trinity Theological College
P.O. Box. 168
Thahekhu
Dimapur – 797112
Nagaland
India